Golden Axe III Slashes Onto Wii Virtual Console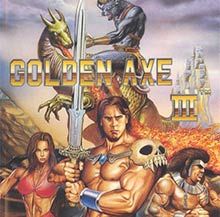 I vividly remember playing the first Golden Axe with friends at a small convenience store, conveniently Altered Beast sat right next to it. SEGA announced the release of Golden Axe III for the Wii Virtual Console today, and it's a game I have no experience with. The Golden Axe games, in retrospect, have lost a lot of the luster they once held in my heart. Time has not been too kind to the games.
Still, they are a fun little diversion and if you're interested in getting in on some sword-wielding action, then Golden Axe III may be worth a look. Golly gee, it sure would be nice if a demo system were in place before plopping down our hard earned Wii points. In the third game of the series the Prince of Darkness has stolen the Golden Axe and cursed all the warriors of the kingdom. One warrior has broken free from the curse and sets off to rid the world of the Prince of Darkness. I bet you can't guess who the fated warrior is.
Golden Axe III can be purchased for 800 Wii Points at the Wii Shop Channel right now.
Image 1 of 2
Your Daily Blend of Entertainment News
Staff Writer at CinemaBlend.