Gravity Rush Soars Into LittleBigPlanet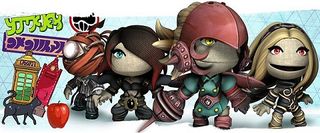 Last week, Sony announced that Gravity Rush's Kat would be making her way to PlayStation All-Stars Battle Royale as one of the first DLC characters. Well, now it looks like Kat and Co. will be invading yet another game, this week being added to the LittleBigPlanet family of games as delightful new costumes.
One of the PlayStation Vita's critical darlings and hailed by many fans to be one of the best games available on Sony's new handheld, Gravity Rush is all about gravity-defying action in an adventure that sees our amnesiac hero, Kat, trying to figure out who she is, all while taking out invading baddies with her high-flying special abilities.
In LittleBigPlanet, Kat and several of her frienemies will be available this week in an all-new costume pack. The four costumes can be purchased separately or, if you buy them as a bundle, you'll also net a handful of Gravity Rush-themed stickers to make your player-created worlds extra classy.
Purchasing the new costumes will make them instantly available in LittleBigPlanet 2 and LittleBigPlanet PS Vita with support for LittleBigPlanet Karting being added shortly.
I'm a big fan of Gravity Rush, so seeing its characters pop up in other games is certainly a nice surprise. More importantly, I'm hoping this means that the developers see some staying power in the series. Maybe if fans respond well enough to Kat's appearances in these other games, we'll hear something about a Gravity Rush 2 coming down the pipeline. A boy can dream, right?
Look for the Gravity Rush DLC to hit LittleBigPlanet tomorrow.
Staff Writer for CinemaBlend.