Halo 3 1080p, 60fps Gameplay Video Released For Xbox One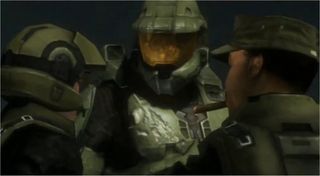 New footage for the upcoming Halo: The Master Chief Collection has gone live at this year's PAX Prime in Seattle, Washington. The video is only two-and-a-half-minutes long but it gives gamers a very, very, very brief glimpse at the gameplay of Halo 3 as part of the Master Chief Collection for the Xbox One.
The video comes courtesy of IGN's live attendance at this year's PAX. The footage is a small sample of a stage demonstration for the game.
As mentioned in the video, the game runs at 1080p and 60fps. Unfortunately, that IGN video doesn't do a very good job of depicting the game's 1080p resolution for the Xbox One very well.
Thankfully, there's another video of the same footage you see above, just slightly shorter and without the voice-over commentary from the stage presentation. It comes courtesy of DualShockers.
Sadly the video still doesn't offer the gameplay at 60 frames per second, but you can at least get a glimpse at what Halo 3 will look on the Xbox One.
As mentioned in the IGN clip, while Microsoft hasn't been very focused on marketing the other two games in the Master Chief Collection – namely Halo 3 and Halo 4 – it is made known that both games have still been upgraded to some extent as far as basic rendering goes. Both titles have been outfitted with new shaders and light rendering tactics to help both games look new and improved compared to when they originally released so many years ago.
Before now a lot of attention had been paid to Halo 2: The Anniversary Edition due to the game getting some serious overhaul treatment, including but not limited to a brand new graphics renderer that gamers can switch between in real-time while they play, as well as six of the game's classic multiplayer maps overhauled and upgraded to meets today's graphics and gameplay standards of engagement.
Halo: The Master Chief Collection is easily pegged to be one of the biggest games to drop this fall, and even I have to say that anyone who was a fan or even looking for an awesome package with a great bundle of games would likely look to buy an Xbox One this fall for the game. I really have no idea how well this will all turn out in the sales game when the numbers drop in December but I imagine it's going to be a nail-biting battle between the big three.
Staff Writer at CinemaBlend.
Your Daily Blend of Entertainment News
Thank you for signing up to CinemaBlend. You will receive a verification email shortly.
There was a problem. Please refresh the page and try again.