Han Solo Game Might Be In Development At Dead Space Studio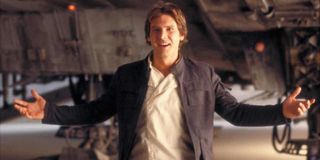 Dead Space developer Visceral Games hasn't officially announced what their new Star Wars game is about. However, it seems that members of the development team have been dropping some major hints.
Game Informer makes the case that Visceral is making a Han Solo game. They point at a series of teases over social media by the developers. For example, co-writer Todd Stashwick posted this picture of Solo on Instagram when he was first hired by Visceral for the project:
Another Han Solo figure appeared in his Star Wars day picture with Amy Hennig, his fellow writer on the project:
The pirate flag in the background with a stormtrooper helmet in the place of the usual skull, appears in other pictures released by the team as well. For example, here's a picture that game director Scott Warner took of Visceral's office. Note the Millenium Falcon backgrounds on the computer beneath the flag.
GI also points out other teases, like Amy Hennig's Millenium Falcon background for her Twitter account and the Han Solo in Carbonite statue in Visceral Games' lobby. On their own, all of these posts and images seem meaningless. However, you put them together and it's easy to believe that maybe there's a pattern.
If I had to guess, Visceral Games is making a game that stars a young Han Solo. The player steps into his shoes in the days long before he joined the Rebel Alliance. Han Solo's life before Episode 4 was explored by novels and comic books. He was an orphan who was taken in by pirate Garris Shrike. Maybe the game would center on the years before and after he leaves Shrike's crew
It's also possible that Visceral Games will make up their own origin story for Solo. Disney said that the Expanded Universe isn't canon so Visceral's game doesn't have to conform to those older comics and novels.
Star Wars Battlefront is coming this fall so it will probably be the focus of EA's press conference at E3 next month. However, maybe Visceral will make an appearance during the presser to confirm what they're working on.
Staff Writer at CinemaBlend.
Your Daily Blend of Entertainment News
Thank you for signing up to CinemaBlend. You will receive a verification email shortly.
There was a problem. Please refresh the page and try again.