Hawken Definitely On The Horizon For Xbox 360, PS3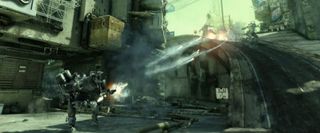 If you didn't care about the free-to-play, high-end mech-shooter, Hawken from Adhesive Games because it seemed like another visually breathtaking game made for the PC Master Race, well today you have a reason to care because Hawken is "definitely on the horizon" for home consoles, too.
Beef Jack has sort of come into their own, landing scoops and breaking news the way Kotaku used to before they became ubiquitously huge. Their latest exclusive news bit comes courtesy of Adhesive Games co-founder Chris Lalli, who stated that...
This is good news if it turns out to be true. However, it's unlikely that we would actually see just Hawken appear for the current generation consoles. As many of you already know, Microsoft has a minimum three-game publishing clause, where the publisher has to publish or has published at least three games for their console. This can get exceptionally expensive for small publishers and Metero Entertainment is a small publisher with no other games under their belt save for Hawken.
This would mean that Meteor, for an Xbox 360 release, would either have to publish two other games or already have a few other titles in the works to be published if they plan to port Hawken to Microsoft's console. Alternatively, Adhesive could go in with a partnership deal using partner programs from bigger publishers like Electronic Arts, something that Valve, Klei and other developers have used in the past for distribution purposes.
I don't doubt that Hawken is definitely being eyed for a console release, but free-to-play titles aren't really breaching ground quickly enough to make a surefire bet. For instance, Microsoft just enabled their first free-to-play title, Happy Wars to make an appearance on the Xbox Live Arcade.
We'll keep you posted if there are any further developments regarding Hawken's appearance for the Xbox 360 and PS3. The game is currently undergoing closed beta testing and will launch this December for PC. Need more info? Feel free to visit the Official Website.
Staff Writer at CinemaBlend.
Your Daily Blend of Entertainment News
Thank you for signing up to CinemaBlend. You will receive a verification email shortly.
There was a problem. Please refresh the page and try again.