Help Wanted Arriving On Wii May 12th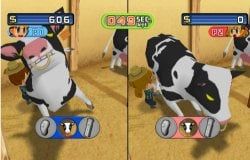 With less than a month to go before the game sits pretty on retail shelves, Hudson announced that Help Wanted has gone gold and will be available on May 12th. So gamers can get ready and gear up to work their butts off to save the world.
"Help Wanted is out-of-this-world fun for the entire family" said Sabine Duvall, Vice President of Product Development at Hudson Entertainment. "If you've ever wanted to know what it's like to be a Sushi Master, a Boat Captain, a Body Builder and save the world all in one day – this is the game for you!"
Help Wanted is Hudson's latest mini-game extravaganza that sees players taking on 50 different odd jobs that require a little skill and implement a lot of…uhh…fun? Well, anyway, imagine if Wii-Sports included all kinds of wacky jobs that needed to be completed in order to save the world. Yes, gamers will work to save the world.
By completing the jobs players will unlock items that they can use to delay the impending destruction of the planet by a meteor. I'm not sure what kind of items you can purchase within the budget of working a 9-to-5 that will actually prevent a meteor from destroying the planet, but who cares if you're having fun?
Help Wanted will be available for the Wii on May12th. You can visit the Official Hudson Website for more information about the title. Be sure to stay tuned in with Blend Games for further updates and news regarding all things gaming.
Staff Writer at CinemaBlend.