Here's How The Rockstar Editor Will Be Expanded For Consoles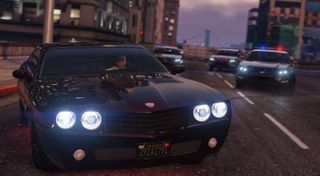 Rockstar has announced some of the new features that will be available in the console version of the Rockstar Editor for Grand Theft Auto V. The highly awaited toolset will allow users to create their own movies and machinima, just like PC gamers... minus the mods, of course.
VG 24/7 rolled out some of the features of the editor that were just recently posted up on Rockstar's blog.
Some of the new features for the GTA V editor includes ambient sound and audio, where gamers can alter the effects or the soundtracks to add more ambient musical tracks into the background of a scene. So if you want something slow and steady that builds and swells, you can finally do so without relying on something big and bombastic to deliver the intent of your video.
Improved snapmatic integration makes it easier for console games to find a spot within the editor's timeline and modify a scene or alter camera angles, effects or music with ease. For PC gamers you could access any scene with any prop or effect that you desired with the mouse – rolling over and changing whatever you wanted in the PC version of GTA V is easy enough thanks to the precision of the mouse. For console gamers Rockstar is ensuring that the controllers are fine-tuned enough to be able to get to where you want on the timeline and change what you need without the clunky imprecision that comes with an analog.
Rockstar also modified the director mode with a larger mini-map with more icons made available for highlighting specific events and locations. This is accompanied by more fonts and a new copy and paste feature for sound effects and audio in the editor.
The Rockstar Editor has been used as a very powerful tool to create some really cool machinima. You can see just how powerful the tool is with this awesome machinima below from GTA5Videos.
Shades of Vanishing Point were tossed in there at the end.
Soon PS4 and Xbox One owners will be able to create their own videos just like the one above, which was actually done without any mods.
You can expect to see the Rockstar Editor make its appearance on the PS4 and Xbox One this September. It won't be long before you'll be making your own videos and posting up on the Rockstar Social Club. The only drawback to the editor for now is that on PC gamers are still limited on how they can utilize mods, but eventually that feature will make it in whether Rockstar wants it in or not. We've already seen Iron Man in the game so it won't be long until the model swaps become the norm.
In the meantime console and PC gamers can enjoy making machinima, importing, editing and chopping up audio as well as snapping and cutting together some neatly shot scenes. You can learn more about the editor by visiting the official Rockstar Games website.
Staff Writer at CinemaBlend.
Your Daily Blend of Entertainment News
Thank you for signing up to CinemaBlend. You will receive a verification email shortly.
There was a problem. Please refresh the page and try again.