The Hobbit, Conception II, More GBA Games Arrive On Nintendo Consoles This Week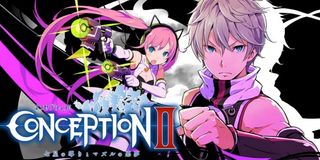 Nintendo seems to be getting its act together in the ole new game release department this week, offering up a couple of new Game Boy Advance titles on the Wii U Virtual Console, as well as a handful of smaller games for the 3DS and the launch of Conception 2 and Lego: The Hobbit.
As we've reported these past couple of weeks, Nintendo is moving full steam ahead when it comes to Game Boy Advance games on its latest home console, launching a couple a week throughout April to help flesh out the Wii U's stagnant library. Whether or not a few GBA games, Mario Kart 8 and Smash Bros. is enough to convert new buyers over to the Big N remains to be seen but, hey, it's a start.
This week's new GBA games are another couple of fan favorites, including the platforming adventure starring everybody's favorite pink ball of suction, Kirby and the Amazing Mirror, as well as one of my favorite games of all time, WarioWare Inc.—Mega Microgames. WarioWare is a perfect mix of brilliant, super short challenges loosely strung together across multiple themed worlds. As an added bonus, players can unlock several competitive and solo games to enjoy on the side, including Dr. Wario at no additional charge. It was a perfect title for portable gaming and should look super nice on that Wii U GamePad.
Also releasing for the Wii U this week is My Exotic Farm…So, yeah, moving right along to the 3DS then.
The 3DS has a trio of smaller offerings as well, including Boxzle, Governor of Poker and Atlantic Quest. You'll also be able to snag the NES Virtual Console game, Mach Rider.
For those in the market for bigger retail games, however, there are a couple of options hitting the virtual and physical shelves. First up is Lego: The Hobbit, which takes the story of the first two movies in the ongoing trilogy and injects a healthy dose of Lego humor, brick-breaking, building and goofing off. If the game sells well enough, rumor has it that the third film's content may be eventually added as DLC.
Finally, for those of you who wonder what it would be like to woo a whole bunch of ladies, impregnate them, then bring your warrior children onto the battlefield in a bizarre RPG adventure, then you might want to turn your attention to Conception 2: Children of the Seven Stars. For the record, I wasn't exaggerating as to the aim of the game in those previous sentences. The whole point of the game is to basically breed helpful adventurers with seven lovely ladies in order to, I don't know, save the galaxy or something. But yeah. Conception 2. That's totally a thing that's happening.
Your Daily Blend of Entertainment News
Staff Writer for CinemaBlend.