For Honor Will Include Single-Player Campaign, Ubisoft Confirms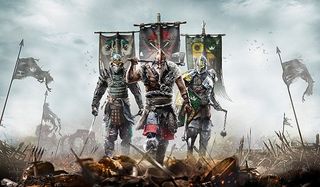 Fans of medieval combat have a lot to look forward to once Ubisoft's For Honor launches later this year, especially since we now know that the game will boast a single player campaign.
Originally revealed during the Ubisoft E3 2015 press conference, all we really knew up to this point was that For Honor pitted teams of four against one another in old school combat. And by "old school," I mean you've got teams of knights, vikings and samurais attacking each other with swords, shields, spears and special gear like battering rams.
If you've ever seen Chivalry: Medieval Warfare or War of the Roses in action, then you've got a good idea of what For Honor's game plan is.
But while the game appeared to be a strictly multiplayer affair, it turns out there's actually a campaign to follow for folks who want to fly solo.
Here's a look at SpaceElephant Community Developer Emile Gauthier chatting up some of the game's producers over at Ubisoft, where Producer Stephane Cardin confirms that, yes, there will be single player content in the game.
In case you're not one for watching videos, Cardin promises that a solo campaign will be included in the final version of For Honor, adding that it is "one of the key subjects" the team is currently working on and that they can't wait to show it off.
In case you didn't gather from the reveal trailer or additional glimpses at For Honor in the above video, you shouldn't go in expecting anything like Dragon Age or Final Fantasy here. There are no monsters or spells, just good old-fashioned combat where one dude tries to crush another dude with an axe, while that second dude tries to run the first dude through with a spear. In other words, it's going to be fast, brutal and firmly grounded in something resembling reality. I'd have to check my history books, but I'm not entirely sure these three factions ever actually squared off on the battlefield.
With games like Evolve and Rainbow Six Siege leaning more heavily on the idea of online-only gaming, it's kind of surprising to see For Honor adding in a single-player campaign. Keep in mind that we're not complaining. It's nice to see that folks interested in the concept, but maybe not battling other people online, will still be able to enjoy the game.
And with three factions out of the box, that's got us wondering: Which other civilization would make a good addition to the game, perhaps in the form of DLC? The Spartans seem like an obvious pull, but we'd be interested to know what our readers think. Hit us up in the comments below.
Staff Writer for CinemaBlend.
Your Daily Blend of Entertainment News
Thank you for signing up to CinemaBlend. You will receive a verification email shortly.
There was a problem. Please refresh the page and try again.