How To Play Custom Soundtracks During Xbox One Games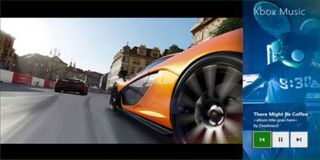 One of the biggest missing features from the Xbox One is a feature that helped define "next-gen" during the OG Xbox and Xbox 360's tenure during the sixth and seventh gen console wars. The custom playback feature may not be native in the Xbox One's OS at the moment, but there are ways to get it to work nonetheless.
So basically, a lot of gamers enjoy being able to play their own music during games. It helps set the mood, it helps get headshots, it helps amp up the player's ability. Heck, it's one of the more awesome features of APB: Reloaded – being able to stream music with the in-car radio or create and share your own tunes using the music studio – and yet it's completely absent from the Xbox One. Why?
Well, it doesn't matter what Microsoft decided to take out or remove from the basic cache of principal features that gamers loved so much about the original Xbox and Xbox 360; what does matter is how to makeshift some methods to get those features back while Xbox One owners desperately await the new OS update.
So first of all, you'll need to have Xbox Music installed. It's a free app and it's available from the app store. Just download, install and run it just to make sure it's done proper. You may get a prompt asking you to sign into Xbox Live Gold, but you don't need to worry about it. If you don't have Xbox Live Gold you won't need it for media streaming.
If you haven't already, be sure to follow our walkthrough guide on streaming content from your PC to your Xbox One. This will help you setup your Xbox One so you can get the most out of your media library stash on your PC, whether you're using Windows 7 or Windows 8.
Now that the Xbox One and PC are setup to share content like a reluctant arranged marriage, it's time to start streaming custom music to your games.
Basically, you have the option of setting up playlist to stream to your Xbox One by either selecting a pre-made playlist and choosing to "Play To" the Xbox One, or you can manually choose which songs you want to stream to your Xbox One by picking them from your media library.
After doing so, you'll need to head back to the Xbox One's home page and select the "Snap" feature from the main menu. From there, you'll want to select the Xbox Music app to "Snap" to from the menu, this way it's always playing (or playing when you want it to).
Next up, simply hit the home button on the Xbox One controller and then select the game you want to play. If it's disc based, you simply enter the game disc and then start playing. You can head into the game's options menu and then turn down the music.
Snap to the Xbox Music on the side of the screen and then hit the "Play" button and you now have yourself a homemade custom soundtrack feature. Yes, it still requires a media library not located on your Xbox One, and yes it will zap a bit of bandwidth for streaming purposes, but gosh darn-it there's no other options for custom soundtracks in games until Microsoft decides to (if ever) re-implement it into the Xbox One's OS.
(Main image courtesy of Modvive.com)
Staff Writer at CinemaBlend.
Your Daily Blend of Entertainment News
Thank you for signing up to CinemaBlend. You will receive a verification email shortly.
There was a problem. Please refresh the page and try again.