How To Train Your Dragon Movie-Game Announced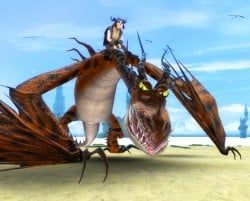 It was inevitable for it to happen because movie-based video games are just too good for movie studios and game publishers to pass up. With that said, Activision has announced that they will be publishing the game How to Train Your Dragon, which is based on the movie of the same name.
According to the press release…
In actuality, How to Train Your Dragon is a neat sounding game for a few reasons: Players get to create their very own dragon using one of six types of dragons with tons of customization features. The game also expands on where the movie leaves off, so players can train up their pet dragon and go beyond the limitations of the film's story. Another neat aspect of the game is that it reminds me of a dragon version of Pokemon.
Whether or not the game manages to break the mold -- something only very few movie-based games happened to do -- is very doubtful but at least hopeful.
Gamers can look for How to Train Your Dragon to hit store shelves for the Xbox 360, PS3, Wii and DS in March. For more info be sure to visit the Official Website.
Staff Writer at CinemaBlend.
Your Daily Blend of Entertainment News
Thank you for signing up to CinemaBlend. You will receive a verification email shortly.
There was a problem. Please refresh the page and try again.