Industry Blend: XCOM Reboot Or Star Wars: Battlefront 3?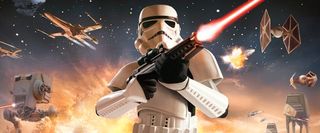 GameInformer finally made the big reveal back on January 5th about which game would grace their cover next and it was another reboot of the famous turn-based strategy game, XCOM. It was something no one seen coming mainly because 2K Games already has an FPS XCOM in the making and it definitely caught everyone off guard that a turn-based strategy version of the title was also in the works.
Now, the interesting thing about this situation is that there was actually a lot of build-up for the next Game Informer reveal to be LucasArts' Star Wars: Battlefront 3. There were all kinds of hints and rumors about the project despite GI letting people know that the next reveal would appeal more-so to old-school gamers.
After the Game Informer reveal came to light, it kind of leaves you wondering would you rather have another XCOM reboot made true to the series, or a sequel in the very popular Star Wars: Battlefront series?
I'm somewhat torn on the issue because I put countless hours into both series of games (maybe more into X-Com than Battlefront). I mean, ever since gameplay footage was released of 2K Marin's vision of XCOM fans have exhausted themselves over protesting against many of the design decisions and gameplay choices which basically bastardized itself from Micropose's X-Com. The whole thing just left a really bad taste in the mouths of X-Com fans.
I wasn't particularly upset over the first-person perspective for the reboot, but I was appalled at the lack of gameplay choice and freedom in 2K Marin's XCOM...where stages were linear and base management was no longer much of an option. To sum it up quickly, it felt like "just another shooter" after they gave a lengthy 22 minute walkthrough for one of the campaign stages. So when the news broke that 2K would be delaying XCOM and shortly thereafter announcing XCOM: Enemy Unknown one should think that the community would be ecstatic with joy...right?
Well, after the Battlefront 3 rumors surfaced it seemed like there was already a breath of fresh air circulating throughout the gaming community. While Star Wars: Battlefront 3 would still be another shooter at least it would be an epic shooter with tons of fun and amazing gameplay features, presumably. I mean, we haven't received a Battlefront game this generation and it would be awesome to see how a current generation iteration of the game would be...especially after seeing the alpha footage that former TimeSplitters' studio Free Radical let loose a few years ago.
While an XCOM: Enemy Unknown title could be the turn-based strategy game we've been waiting for since Jagged Alliance 2: Gold Edition, Star Wars: Battlefront 3 could be the third-person shooter we've been waiting for since...Star Wars: Battlefront 2.
Nevertheless, after hearing the news about XCOM: Enemy Unknown being the big Game Informer reveal, were you excited about the game getting another turn-based strategy reboot or would you have preferred if the news was an announcement for Star Wars: Battlefront 3?
This poll is no longer available.
Staff Writer at CinemaBlend.
Your Daily Blend of Entertainment News
Thank you for signing up to CinemaBlend. You will receive a verification email shortly.
There was a problem. Please refresh the page and try again.