The Jackbox Party Pack Offers Five Games In One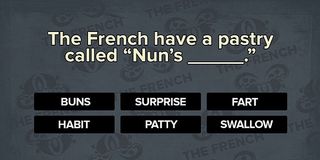 The holidays are here, which means now might be a good time to start thinking about what types of games would be good for keeping family and friends entertained through the next couple of months. Thankfully, Jackbox Games is here to save the day with the Jackbox Party Pack, a five-game bundle being offered on the PlayStation 3, PlayStation 4 and Xbox One.
Pop on over to your digital marketplace of choice and you should be able to stumble upon the Jackbox Party Pack, offering fan favorites You Don't Know Jack and fibbage alongside newcomers drawful, Word Spud and Lie Swatter. All told, the Party Pack will set you back $25, or five dollars per game. We have no idea what those three new games have to offer but, considering the fact that YDKJ is an updated 2015 edition and fibbage is an overstuffed XL version of the game, those two titles alone make the asking price sound like something of a steal. You can check out the pack in action with the teaser trailer below.
It's nice to see this type of couch gaming taking center stage once again. It's something that's been done well with titles like TowerFall and Sportsfriends this past year, and the Party Pack looks to add another five titles to that growing list. In this age of online everything, we sometimes forget how nice it can be to grab a group of friends, invite them all into the same room and play a video game together. According to the Party Pack's launch announcement, that's exactly what the team at Jackbox Games was going for.
"A variety pack of games — all funny, all unique — that you can start up on any occasion and select the game that most suits your fancy at that moment.," said Jackbox General Manager, Mike Bilder. "And most importantly, games where a bunch of people can play without the need for a bunch of controllers."
That's actually something of a double-edged sword for the Party Pack, as your access to smartphones, tablets, computers and the like might limit the gameplay a little bit. On the other hand, you don't need eight PS4 controllers to dive into the fun and, at this point, almost everybody has some sort of modern piece of tech handy at all times, so Jackbox's banking on more open control options is probably a safe bet. You can play YDKJ solo with a controller, according to the comments section, but everything else is done with any handy internet-connected device.
In other words, have the friends and family pull out their own cell phones and get to playing. It's that simple. Most games in the Party Pack support up to eight players while one can apparently make room for a max of 100. I doubt you'll have that many people at the family Thanksgiving party or office Christmas shindig, but it's certainly something to shoot for.
Your Daily Blend of Entertainment News
Staff Writer for CinemaBlend.
Your Daily Blend of Entertainment News
Thank you for signing up to CinemaBlend. You will receive a verification email shortly.
There was a problem. Please refresh the page and try again.