Japanese Live-Action Destiny Trailer Is Perfectly Insane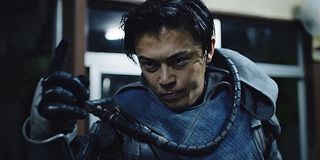 In case you haven't noticed from all of the news posts lately, tomorrow is a pretty big day for Destiny players as Bungie finally unleashes The Taken King. To lighten the mood a bit, PlayStation Japan has launched a new live-action trailer that features a very dedicated player who really wants his friends to play Destiny with him.
If there's one thing we've learned from recent trailers, it's that Japan knows how to do live-action advertisements so, so right. We saw it just a few weeks back with the Japanese trailer for Metal Gear Solid V: The Phantom Pain, and now we're seeing it again with this amazing new Destiny trailer.
Unlike the Metal Gear trailer, PlayStation Japan was kind enough to subtitle this latest piece of cinematic brilliance so English-speaking gamers can get the full effect.
In the trailer, a pair of youngsters awaits the arrival of a friend who asked them to meet in a laundromat. When he shows up dressed as a Hunter from Destiny, the true insanity begins. Honestly, there's some fantastic dramatic acting on display here that would feel right at home in a stone-cold serious Sci-fi action flick. That is of course coupled with a delightfully Japanese sense of humor that boasts a guy making sound effects with his mouth and anime-quality antics.
That's not to say that the live-action trailers made here in the States for Destiny aren't dandy in their own way. If you've missed out on those, you can do some quick catching up by going here.
What both the US and Japanese live-action trailers for Destiny seem to understand is the dual nature of the game. Sure, the plot gets dramatic since we're trying to stop all kinds of aliens from destroying humanity and all, but that doesn't mean we can't take care of business with a cocky attitude and a knowing grin.
And that's what quite a few gamers are looking forward to doing all over again starting tomorrow, Sept. 15, as The Taken King finally arrives. Depending on what time zone you live in, you could actually start downloading the expansion and playing the game late this very evening.
Along with a whole bunch of new story missions focused on the Taken King himself, Oryx, this $40 piece of DLC boasts seven new competitive maps, all new cooperative Strikes, a brand new Raid to challenge even the most grizzled of players, a new world map to explore and more gear than you could ever hope to get your hands on.
The Taken King will also raise the level cap up to 40, with the recently released Patch 2.0 already paving the way to a smoother, more user-friendly experience.
Staff Writer for CinemaBlend.
Your Daily Blend of Entertainment News
Thank you for signing up to CinemaBlend. You will receive a verification email shortly.
There was a problem. Please refresh the page and try again.