Jimmie Johnson's Anything With An Engine Now Available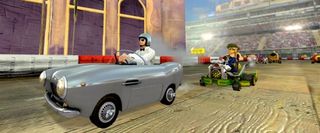 Autumn Games, Isopod Labs and Konami Digital Entertainment announced today that Jimmie Johnson's Anything With An Engine is currently available at retailers nationwide for the Xbox 360, PS3 and Nintendo Wii.
The game follows the motto of Mr. Johnson, insofar that "Anything with an engine" can and should be a racing machine…that goes for dumpsters, rockets and everything else in between.
Jimmie Johnson briefly shared a few comments on the game, saying…
The game is a wacky go-karting type experience, similar to games such as Mario Kart or Wacky Wheels with over-the-top tracks and challenges allowing gamers to experience some dynamic family fun, stunts, bumps and explosions. The Xbox 360 and PS3 version of the game sports up to eight-player online bouts, the game also features four-player splitscreen action, so the entire family (or if you're a large family, some of the family) can partake in the racing action.
An extensive DLC program is also planned for the game, including downloadable characters such as Late Night host Jimmy Fallon. A small portion of the proceeds for the game and content will also go to the American Red Cross.
You can pick up a copy of Jimmie Johnson's Anything With An Engine for only $29.99 at local retailers. For further information on the game feel free to visit the Official Website.
Staff Writer at CinemaBlend.
Your Daily Blend of Entertainment News
Thank you for signing up to CinemaBlend. You will receive a verification email shortly.
There was a problem. Please refresh the page and try again.