JoJo's Bizarre Adventure, Sword Art Online Games Get New Details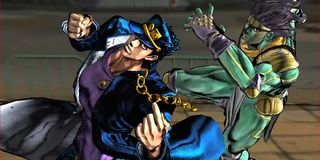 Bandai Namco continues to talk up its 2014 lineup, dropping new details on the recently (as in yesterday) released JoJo's Bizarre Adventure: All-Star Battle for the PlayStation 3 and Sword Art Online: Hollow Fragment, which is set to hit the Vita later this year.
First up is JoJo's Bizarre Adventure: All-Star Battle, a new 2D fighting game hit the PlayStation Network yesterday afternoon.
"Adapted from Hirohiko Araki's smash maga hit, JoJo's Bizarre Adventure, the game takes characters spanning all eight incredible story arcs of the manga and pits them against each other in an epic one-on-one fighting game," reads a statement from the publisher.
In case you're wondering whether or not the fighting chops will be up to snuff, you should know that All-Star Battle comes from the folks at CyberConnect2, best known for their work on the highly successful fighting series, Naruto Shippuden: Ultimate Ninja.
"Players will be able to choose from an impressive cast of characters spanning the entire series," says Bandai Namco. "Each character comes with their signature moves, punctuated by dynamic camera angles to capture every highlight of these dramatic fights."
Each character will be able to select a battle style before going into the fight, which will augment the way you control them. One mode allows you to heal some of your damage, another allows you to unleash a unique set of attacks, and another lets you enter the ring with more power, but a shortened power gauge.
While the manga that inspired the game came out 25 years ago, it looks like a lot of thought was put into making JoJo's Bizarre Adventure: All-Star Battle into a more modern fighter, and you can download the game, or the demo, right now on the PS3.
While JoJo can be yours today, you'll have to wait a bit longer to join Kirito and company on their latest adventure for the PlayStation Vita. Based on one of the most popular anime in recent years, Sword Art Online: Hollow Fragment is slated to arrive on Sony's portable console sometime this summer, and it'll be bringing some additional content along for the ride. For those who missed out on the PSP game in the series, which is basically anyone who didn't import it from Japan, you'll be happy to learn that an HD-ified version of Sword Art Online: Infinity Moment will be bundled in with the new game at no additional charge.
"Sword Art Online is a highly rated series that contains storyline and battle elements that seamlessly translate into a thrilling RPG experience," said Chris Gilbert, Senior VP of Sales and Marketing at Bandai Namco Games America. "With the series' storyline rooted in a vast virtual reality game in and of itself, players can look forward to being immersed in an unique game within a game as they explore the dangers and wonders of Sword Art Online."
Your Daily Blend of Entertainment News
Staff Writer for CinemaBlend.