Just Cause 4 Clues Emerge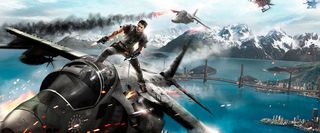 Square Enix seems to envision a long future for the Just Cause series. Just Cause 3 hasn't even been officially announced yet and they're already making plans for a fourth game. Recently the company scooped up a few website domains related to Just Cause 4.
Fusible noticed that Square Enix registered JustCause4.com this past week. They also grabbed a number of international sites, like JustCause4.fr, JustCause4.co.uk, JustCause4.de, and JustCause4.it.
Just Cause is a series of open-world action games. Players take on the role of Rico Rodriguez, a secret agent for the United States government. In each game, he works to overthrow the dictator of a small nation. He helps local rebels and undertakes a number of dangerous missions to strike at the dictator's holdings.
It seems likely that the series would continue past Just Cause 2. JC2 garnered strong reviews all around. Furthermore, it sold about 1.5 million copies over the course of 2010.
A report from last December suggested that Just Cause 3 is in development at Avalanche Studios. However, Square Enix never confirmed this news.
It might seem curious that Square would start grabbing websites for Just Cause 4 before they've even released JC3. It's not unheard-of, though. Hell, Activision owns BlackOps6.com. Website domains are dirt cheap compared to other production costs. Square Enix would rather snatch up these domains on the off-chance that they'll need them. It's better than, say, letting some other random dude grab JustCause4.com and being forced to shell out money to get it back.
Someone's more likely to grab JustCause4.com and other domains if Just Cause 3 has already been announced. Perhaps Square is planning to reveal JC3 at E3 and wanted to ensure that no one pulled a fast one on them when they did.
Staff Writer at CinemaBlend.
Your Daily Blend of Entertainment News
Thank you for signing up to CinemaBlend. You will receive a verification email shortly.
There was a problem. Please refresh the page and try again.