Killzone 2 Devs Bringing Down The Banhammer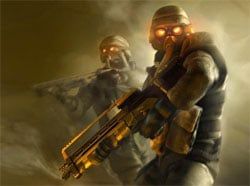 PS3 owners have been enjoying the sweet and sugary delights of the much-hyped Killzone 2's multiplayer for only a short time now, but it seems that KZ2 developer Guerrilla is already making plans to change some of their policies. Specifically, they're going to begin bringing down the banhammer on people taking advantage of various glitches in the game's online modes.
They've released this tidbit of news (as more and more in the industry have begun doing) via their Twitter. "Glitchers risk losing their PSN ID altogether. We've been quite lenient so far but that's going to change," Guerrilla told user TheXFrame, who questioned the developers about their process for dealing with glitch exploiters.
One would think that the first order of business would be to actually fix the glitches, but I suppose that punishing those who aren't playing fair should be a priority as well. No game is perfect, after all.
Your Daily Blend of Entertainment News