Konami Wants Saw To Rival Silent Hill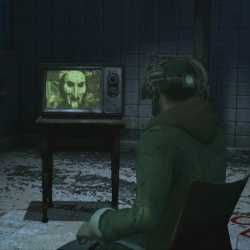 Though you may view the upcoming Saw video game as an attempt to make an easy buck, new publisher Konami has high expectations for the game. They hope the game will grow into a franchise that can be discussed in the same breath as their other survival horror series, Silent Hill.
""Because we have leadership in the survival horror genre, we're passionate about [the Saw video game] and wanted to find another property on par with Silent Hill," said Konami director of marketing David Daniels in a chat with Variety. Konami picked up the rights to the project after the original publisher, Brash Entertainment, went belly-up.
Daniels also states that there's plenty of room in the market for both survival horror franchises. "Silent Hill is more about psychological terror, but Saw for us is more about graphic, intense horror that overwhelms you. We want players to turn away from the screen for just a moment because of the visual intensity."
Saw will be released next fall alongside Saw VI for the PS3, Xbox 360, and PC.
Staff Writer at CinemaBlend.