Lone Survivor And GBA Castlevania Gear Up For Halloween On Wii U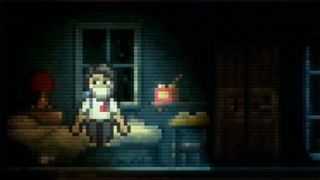 Just in time for Halloween, the Nintendo Wii U is getting a pair of games perfectly suited to the spirit of the season, including a dark indie adventure game for the eShop and a trip to Dracula's living castle on the Virtual Console.
Lone Survivor: The Director's Cut makes its way to the Wii U eShop this week, giving Nintendo fans a chance to check out this bizarre environmental puzzle adventure for the first time. Maybe that's not the best way to describe this side-scrolling dive into insanity but, then again, Lone Survivor is one of those games that's better experienced than explained.
"In this psychological survival adventure, the masked protagonist must escape from a city ravaged by disease," reads the announcement from Nintendo. "Lone Survivor: The Director's Cut is a new kind of adventure in which the choice of how to survive is up to you."
The beauty of Lone Survivor is in the number of ways it can be interpreted. Figuring out what's going on, who you are, who these other people are and what your actions is actually building toward is, in part, left up to the player. That's not to say that there isn't a satisfying conclusion, just that your interpretation of the game will have a large impact on what that conclusion actually means. It's like Twin Peaks meets Silent Hill, and you can grab it this week for the Wii U.
If, however, you'd rather take a more straightforward route to Halloween-perfect entertainment, then perhaps you'd be interested in checking out Castlevania: Harmony of Dissonance. You'll take on the role of Juste Belmont as he continues the timeless crusade against the dark lord himself, Dracula. From whipping baddies with your trusty Vampire Killer to unleashing various sub weapons and mix-and-match spell cards, the Wii U Virtual Console is where you'll find this classic Game Boy Advance offering for the long-running series.
The Wii U is getting a handful of other titles this week, including Paper Monsters Recut, Ballpoint Universe: Infinite, Chests O'Booty and Ping 1.5+ for the eShop.
It's a pretty slow week on the 3DS, though, with only a handful of new games to sort through. There's the Game Boy Advance life simulator, Harvest Moon 2 on the Virtual Console, as well as Pyramids 2 and The Legend of Dark Witch for the portable's eShop. That's it.
For those of you looking to game on the cheap, SteamWorld Dig, Master Reboot, Shut the Box, TNT Racer-Nitro Machines Edition and Trine 2: Director's Cut are all receiving discounts on Nintendo's home console, with the 3DS playing host to a variety of sales for Atlus and UFO Interactive games.
Your Daily Blend of Entertainment News
Staff Writer for CinemaBlend.