Marvel Vs Capcom 2 Release Date Revealed For PSN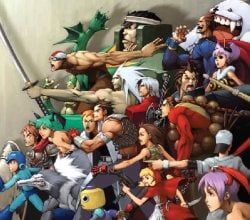 Capcom let the news fly loose about their soon-to-be re-released fighting game from the PS2 era. Yes, Marvel Vs Capcom 2 for the PlayStation Network is right around the corner and will be made available at a budget price this coming August.
According to the press release...
That's not a bad price for a game that never dropped below $30 for the PlayStation 2. Good gosh, trying to get one's hands on that title was tough. But now the game will be available with an HD overhaul on the PlayStation 3 and Xbox 360 for only $15 bucks. Nice.
For more information feel free to visit the Official Website. For more gaming news, updates, media and insight, be sure to stay tuned in with Blend Games.
Staff Writer at CinemaBlend.
Your Daily Blend of Entertainment News
Thank you for signing up to CinemaBlend. You will receive a verification email shortly.
There was a problem. Please refresh the page and try again.