Mass Effect 3 Citadel DLC Completes Shepard's Journey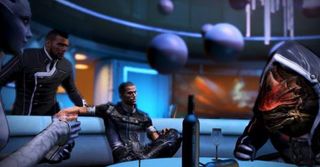 Next month, BioWare will release a Mass Effect 3 DLC pack called Citadel. Citadel is said to be the last single-player add-on for the RPG. The developer also announced plans to release a last, free multiplayer add-on entitled Reckoning.
Citadel, priced at $15, centers on the massive space station/city at the heart of the trilogy's plot. Commander Shepard and his team must investigate a conspiracy. This task will take them to new locations, including the Council Archives. Shepard will fight alongside characters from throughout the trilogy.
This investigation is only part of the DLC, though. It also provides Shepard with some leisure opportunities. For example, he can gamble at the Citadel's Silver Coast Casino, test his combat skills at the Armax Arena, or furnish his Citadel apartment. He can also continue friendships and romances with characters from throughout the trilogy.
Interestingly, the Citadel DLC has been split into two downloads on Xbox Live due its size. The first pack costs $15 while the second pack is free. Players will have to buy and download the first one before they can get the second. PS3 and PC players can just download the DLC as one file.
The Reckoning DLC provides new characters, weapons and upgrades for co-op play. Players will be able to become a Geth Juggernaut, Female Turian Raptor, Talon Mercenary, Alliance Infiltration Unit and more. The new Krogan Warlord character is sure to be popular, as he can crush enemies with a Biotic Hammer. Other new weapons at players' disposal include the Geth Spitfire Assault Rifle and Venom Shotgun.
You can check out the new content in the Reckoning DLC by watching BioWare's TwitchTV account on February 25th at 9:30AM PST. The developers will also be on hand to answer any questions.
Reckoning will debut on February 26th. The Citadel DLC will follow on March 5th.
Image 1 of 4