Metal Gear Solid Touch Pwns Nintendo DS And PSP Games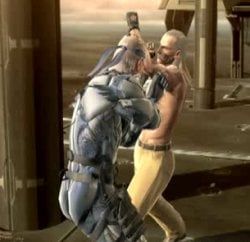 Surprisingly enough, this game almost looks better than most PS2 and PSP titles. In fact, Metal Gear Solid Touch just runs circles around that pathetic handheld device known as the DS. Konami released some new screenshots to back up my words and leave jaws anchored on the floor.
Metal Gear Solid Touch is pretty much a retelling of Metal Gear Solid 4, but condensed down to a more action-oriented experience. Featuring an over-the-shoulder view and plenty of scene-to-cardboard-scene shoot-outs, iPod Touch and iPhone users will definitely have an action-packed time with MGS: Touch.
What's so amazing about this game is that to be on a mobile device the graphics are really [paper] sharp. Who knew a non-gaming device could produce better quality games than devices specifically designed for gaming (snickers)? Anyway, you can check out more about Metal Gear Solid Touch, which is due out this spring exclusively for the iPod Touch and iPhone, by visiting the Official Website.
Be sure to check out the new screenshots below, and remember to stay tuned in with Blend Games for further updates, news and info regarding the latest gaming titles.
Image 1 of 8
Your Daily Blend of Entertainment News
Staff Writer at CinemaBlend.