Microsoft Unveils IPTV For Xbox 360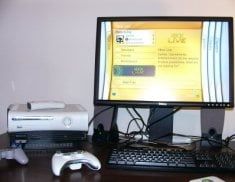 In a press release on the first day of the Consumer Electronics Show, Microsoft officially let consumers in on the new features of their products. Some of these new features included Xbox 360 support for IPTV. This is in response to the high demand for digital distribution and television viewing support on Xbox Live.
Throughout the hogwash and press prattle, Microsoft had a few announcements that actually pertain to gamers. According to Kotaku, the PR reads as follows: Xbox 360 and Microsoft TV Together Expanding the World of Games and Entertainment In a move that will combine the power of Xbox 360 with Microsoft TV IPTV Edition, Bach provided an early look at a new service, IPTV on Xbox 360. The offering is expected to deliver world-class TV experiences such as digital video recording capabilities, with gaming, movie viewing, and even voice and video communications. Tapping into an expanded set of entertainment experiences, users will be able to watch their favorite sporting event live while chatting with their friends, for example, or participate in a match on Xbox Live while they record a TV program in the background. IPTV on Xbox 360 is expected to be available to consumers by holiday season 2007 and will be offered by providers that are deploying TV services based on the Microsoft TV IPTV Edition software platform.
Staff Writer at CinemaBlend.
Your Daily Blend of Entertainment News
Thank you for signing up to CinemaBlend. You will receive a verification email shortly.
There was a problem. Please refresh the page and try again.