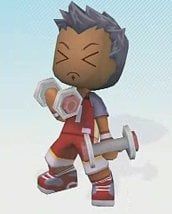 Electronic Arts is bringing gamers a whole new take on The Sims franchise, for the Nintendo DS and Nintendo Wii. The game can best be described as Legos meets The Sims. Players will design everything from the characters they play to the town they live in. It's like every home-decorating perfectionist's dream come true.
If you thought you could have a field day customizing your Mii to no-end, EA has definitely guaranteed a way for you to spend restless hours re-building, decorating, and customizing an entire town. While it's based on the The Sims franchise, MySims is a wholly different beast...a vengeful, spiteful, menacing beast. No, I'm just kidding. It's actually a friendly looking game. Well, if you're not afraid of small people with abnormally large heads, and hands that could be used to easily suffocate you.
Anyway, the game has players utilizing building blocks to re-structure a run-down city. Whether it's putting together a pizzeria or a burlesque house, you can do it all in MySims. Okay, well, not the part about the burlesque house...no, I'm kidding, you can have a burlesque house. Actually...you can't. Still, you get my drift.
"We want MySims to provide a creative play experience like never before on a video game system," said Executive Producer Tim LeTourneau. "By giving players the tools to create literally any kind of world they want in MySims, we're reinforcing the idea that the players create the magic. Will the town support a plethora of spooky, mysterious townsfolk – or buzz with the laughter and smiles of fun-loving Sims? It's your call! In MySims, what players make… makes all the difference!"
MySims will be available this Fall for the Nintendo DS and Nintendo Wii. And I'm only repeating this because I'm sure someone forget a couple of paragraphs up. For further information and media regarding MySims, you can visit the Official Website.
Your Daily Blend of Entertainment News
Staff Writer at CinemaBlend.