Minecraft PS3 DLC Coming With Patch 1.06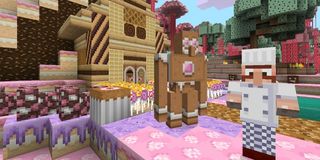 Minecraft PS3 Edition owners will soon have some new content at their disposal. 4J Studios plans to release several DLC packs alongside Patch 1.06, the next update for the PS3.
One of the DLC packs arriving with Patch 1.06 is the Candy Texture Pack. This DLC allows you to create a world made of sweets, sort of like the "Sugar Rush" game in Wreck-It Ralph. You can build a gingerbread house, lollipop gardens and cotton candy plains.
The other Texture Pack on the way is the Natural Texture Pack. The Natural Pack attempts to give the game world a more realistic look. Obviously Minecraft makes that hard with its pixelated, blocky graphics but these textures do give the game a certain life-like quality that it doesn't normally have. Screenshots for the Candy and Natural Packs from the Xbox 360 version of Minecraft are below.
It's unclear what Skin Packs 4J plans to release with Patch 1.06. Thus far Minecraft PS3 has received the Battle and Beasts Pack, Festive Pack along with the PlayStation-themed Skin Pack 1. There are several other skin bundles released for Xbox 360 that 4J could bring to the PS3. For example, the Xbox 360 version of the game added Avenger skins in December.
4J just released Patch 1.05 for PS3 a couple days ago. Patch 1.05, similar to Title Update 15 for the Xbox 360, provided a wide range of bug fixes. It stopped random fall damage and slow loading speeds for chunks, among other problems.
The developer hasn't announced a release date for Patch 1.06. However, the new content launching with the patch should already be finished considering they already released it on Xbox 360. 4J typically announces when they've sent off a patch to Sony for certification but they haven't done that yet. The update's at least several days away, then.
4J Studios has a lot on their plate besides this DLC. They're responsible for the Xbox One, PS4 and PS Vita versions of the game as well. All three are still in development for an unknown release date:
The game should be out on those platforms by the end of the year but the release window hasn't been narrowed down by 4J or Minecraft creators Mojang yet.
Image 1 of 6
Your Daily Blend of Entertainment News
Staff Writer at CinemaBlend.