Minecraft: Story Mode Trailer Reveals Telltale's New Adventure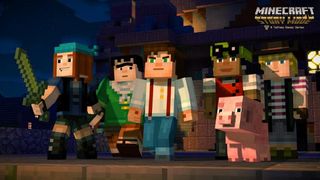 Today Telltale Games sent out the first gameplay trailer for Minecraft: Story Mode, their new episodic adventure based on Mojang's building game. The trailer explains the story and also reveals some of the voice cast.
Minecraft: Story Mode follows an unlikely group of heroes that have to save their cubed world from ruin. Here's the official story description from Telltale:
In addition to Oswalt, Telltale Games also announced these members of the voice cast:
Brian Posehn
Ashley Johnson
Scott Porter
Martha Plimpton
Dave Fennoy
Corey Feldman
Billy West
Paul Reubens
If you grew up in the eighties, Paul "Pee-wee Herman" Reubens and Corey Feldman are the names that jump out to you. It's possible you're familiar with some of the other voices as well if you're an avid gamer. Dave Fennoy played Lee in Walking Dead Season 1 and supporting roles in several other Telltale games. He was most recently the voice of Lucius Fox in Batman: Arkham Knight. Ashley Johnson played Ellie in The Last Of Us. Scott Porter, best known as Jason Street from Friday Night Lights, was also Luke in Walking Dead Season 2 and Nightwing in Arkham Knight.
Odds are you've encountered the rest of the voice cast as well. Martha Plimpton was one of the leads on show Raising Hope and played Stef in The Goonies. Billy West voiced Fry, Dr. Zoidberg and Professor Farnsworth in Futurama. Brian Posehn, meanwhile, is a stand-up comedian who almost helped write Destiny.
Minecraft: Story Mode is a five-episode adventure that takes players to notable locations in Minecraft such as the End and the Nether. As usual for Telltale Games, your decisions throughout the game will have an impact on the story.
Telltale will release Story Mode later this year on PC, Mac, PS4, PS3, Xbox One, Xbox 360, iOS, and Android.
Staff Writer at CinemaBlend.
Your Daily Blend of Entertainment News
Thank you for signing up to CinemaBlend. You will receive a verification email shortly.
There was a problem. Please refresh the page and try again.