Miner Wars 2081 Always-On DRM Completely Removed, Gamers Rejoice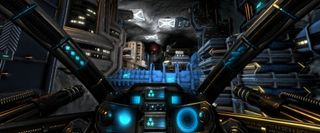 Score one win for the gaming community. Miner Wars 2081, the six-degrees of flight Descent-style shooter has recently been patched and in the patch there was one thing that made a complete difference to the way the game can be experience: It no longer has always-on DRM. Rejoice, clap, cheer, celebrate. This is a big win for gaming culture.
One of our readers tipped us off to an updated page on the Miner Wars 2081 website, following a query posed by another gamer on the Steam forums, who was curious as to whether the latest patch that dropped on January 16th that clocked in at about 3.5MB actually removed the always-on requirement? Well, it turns out it was removed. On the Miner War's update page it specifically states under the January 17th Steam and public build...
Not to simply go on this tidbit of information, we reached out to the developers at Keen Software House regarding the update, curious if the always-on DRM was actually disabled for Miner Wars 2081 with the latest patch. Marek Rosa, CEO and creative director at Keen Software responded with a simple answer, stating..."yes, it was removed in that patch"
So there you have it, all the whining, moaning, crying and begging actually paid off and bringing the always-on DRM to the forefront of the discussion actually managed to get it removed from the game.
While some don't see the dangers of always-on DRM, the reality is that these games will be lost to time and will have no place in the history of gaming culture, given that you won't be able to go back and play a game that requires a constant handshake between the client and serverside network if the company goes bust. Luckily, no matter what happens, gamers will still be able to experience Miner Wars 2081 for many years to come.
You can learn more about title by visiting the Official Website.
Staff Writer at CinemaBlend.
Your Daily Blend of Entertainment News
Thank you for signing up to CinemaBlend. You will receive a verification email shortly.
There was a problem. Please refresh the page and try again.