Modern Combat: Domination Coming To PS3 On January 19th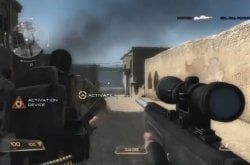 GameLoft announced today that Modern Combat: Domination will be arriving on the PlayStation Network, exclusively for the PS3 starting January 19th, which is next Wednesday. The game will carry a budget price of only $8 and will sport realistic, team-oriented tactical combat. So if you're going in expecting back-shooting, skill-less run-and-gun tactics like Call of Duty: Black Ops, think again hombre.
As stated in the press release…
The game shares close similarities to other more realistic first-person multiplayer shooters such as Ghost Recon or Operation 7. You can check out a list of the game's features below or head on over to the Official Website to, I suppose, learn more?
Modern Combat Domination Features
• The most technical FPS gameplay on PlayStation®Network, based on skill and training.
• The first PSN-exclusive FPS using the PS Move motion controller.
• Enjoy 6 online modes from Team Deathmatch to Domination, with up to 16 players.
• The level design of the 5 different maps favors teams with genuine tactics and training.
• 72-level XP ranking system and unlockable equipment provide a constant challenge.
• 13 weapons from the military and 720p HD graphics allow for an impressive immersion in a modern-day conflict.
Your Daily Blend of Entertainment News
Staff Writer at CinemaBlend.