Monster Hunter Generations Announced, Nintendo Confirms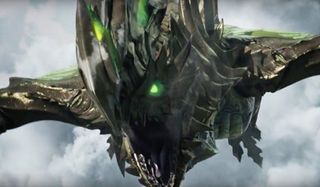 Nintendo announced a new Monster Hunter game yesterday…sort of. The rumored Monster Hunter Generations finally stormed onto the scene, but it turns out that's just the localized name for Japan's Monster Hunter X.
Considering the fact that the Monster Hunter series does pretty well here in the States, we knew it was only a matter of time before we caught word that the latest 3DS game in the series, Monster Hunter X, would be announced for a US launch.
Nintendo held a Direct video conference yesterday but, leading up to the event, rumors started circulating about a mysterious new trademark for Monster Hunter X. This led to lots of speculation, with many folks settling on the idea that it was probably a new Wii U Monster Hunter meant to complement the 3DS' X.
It was a little anticlimactic, then, when it turned out that they were one and the same game, just under different names. I won't pretend to understand localization practices, but I'm always curious when a game with a name that translates just fine into English is given a different name here in the States. Either way, get excited, because we're definitely getting that new Monster Hunter game. We're just not getting two of them.
Fans of the series will feel right at home with the new Monster Hunter trailer revealed during the Nintendo Direct yesterday. There are both monsters and hunters, so everything seems on the up and up here.
This newest "story" has a strong focus on air ships, which I'm sure any fan of Final Fantasy can get behind. As for the game's campaign, four "colossal threats" have stared causing some serious trouble, so it'll be your job to work your way through the ranks and, likely with the help of a few friends, take them down. We've got a flying dragon, a water-based fiend, a mammoth in the frozen north and a fiery jungle T-rex-thing in need of some serious hunting.
Online hunting will once again be a big feature, which should excite US gamers who don't have a bunch of buddies playing the same game within 15 feet. New abilities and weapons will also be thrown into the mix for those of you who have been playing Monster Hunter forever and are on the lookout for something fresh. Look for Monster Hunter Generations to arrive this summer.
But wait, there's more! Continuing the trend of bizarre crossover content established in the latest Monster Hunter game, you'll be able to play as some fan-favorite Fire Emblem characters when Generations launches. Before we leave you, here's a look at the brief reveal trailer for that content, also shown off during the Nintendo Direct.
Staff Writer for CinemaBlend.
Your Daily Blend of Entertainment News
Thank you for signing up to CinemaBlend. You will receive a verification email shortly.
There was a problem. Please refresh the page and try again.