Mortal Kombat Now Available For Xbox 360 And PS3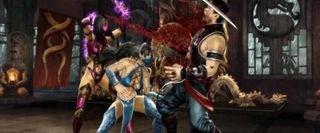 In case you didn't already know, you can pick up a copy of the refreshed, rebooted and revitalized Mortal Kombat from your local or online retailer for either the Xbox 360 or PS3. The game takes the series in a slightly new direction, although much of it is based on old-school fan-favorite qualities.
Ed Boon, Creative Director, NetherRealm Studios commented in the press release, saying…
Brand new modes have been introduced, including King of the Hill, theatre mode so other players can watch just as if they were in a movie theatre (i.e., PS3 gamers can use their Home avatars while Xbox 360 users can use their Live Avatars), as well as a new co-op arcade mode.
One of the most interesting and probably bone-crunchingly funny new features of Mortal Kombat is the X-Ray attacks, where moves are so devastating and powerful that gamers get a nice, slow-motion, zoomed-in effect on the body part being obliterated. It's awesome.
Mortal Kombat is currently available for $59.99, with additional special editions being available as well for the Xbox 360 or PS3. For more info on the additional versions of the game feel free to visit the Official Website.
Your Daily Blend of Entertainment News
Staff Writer at CinemaBlend.
Your Daily Blend of Entertainment News
Thank you for signing up to CinemaBlend. You will receive a verification email shortly.
There was a problem. Please refresh the page and try again.