The New Multiplayer XBL Hotness: Rocket Racing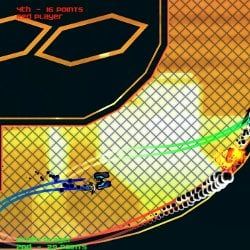 Halfbrick, the creators of the great-looking upcoming XBLA racer/platformer Raskulls have just released the first trailer and details on their soon-to-debut Indie game, Rocket Racing. The trailer is below.
Here's the Halfbrick press release describing the game:
"Control of each racing craft is actually handled with just two buttons – the left and right analogue triggers. They power the left and right rockets respectively, so movement is simple – press both at once to move forward, and alternate power to each for turning. Players will be able to customise their controls to find the configuration that suits their playing style, including using the left analogue stick.
Hitting the best racing line and cutting corners won't always be the best way to win. Players will actually gain a significant speed boost by positioning the rockets against the walls and corners for extra thrust power. The concept is explained via a simple tutorial system in the game, and players will eventually be sliding and boosting around each level with high speed and extreme precision.
Gameplay is focused on shaving seconds off your best times, reminiscent of the legendary Trackmania series. Players can upload their best times on over 40 tracks to the Global Leaderboards and see where they rank among the world's best. Local multiplayer is available with up to four players taking control of a rocket racer, drifting around corners and sprinkling the course with colorful glowing trails – a simple yet incredibly engaging graphical effect."
So basically, the game looks like old school Asteroids but super colorful, multiplayer, and racing-based. For 200 points this is kind of a no-brainer for me. Seriously, this is the first ever XBL Indie game I've gotten hyped for. No release date has been confirmed, but I can confirm that the game is in it's final stages of development and should be out for download soon.
Your Daily Blend of Entertainment News
Thank you for signing up to CinemaBlend. You will receive a verification email shortly.
There was a problem. Please refresh the page and try again.