My Baby First Steps Is A Real Game And Available For Wii/DS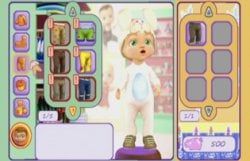 This isn't the usual kind of game we cover here at Blend Games, but you can't knock a game if it actually happens to have a loyal fan base. SouthPeak Interactive and Nobilis Games announced today that My Baby First Steps has shipped to retailers in North America for both the Nintendo DS and the Wii.
According to the press release, Richard Iggo, VP of Marketing for SouthPeak, commented saying…
It's like a learning game for parents: you play with the baby; teach it shapes; how to walk; feed them; help them to climb stairs, and a whole bunch of other baby stuff. Gamers can also accessorize their baby with new garb from the mall or buy items that will go in the house for the baby to use or play with.
This is obviously not a hardcore gamer's kind of game but I can see this selling millions of units and making SouthPeak execs smile when the quarterly earnings report comes in. My Baby First Steps retails for the DS and Wii at $29.99 and is rated 'E' for Everyone. Although, it would be kind of funny if the game was rated 'M' for Mature…it would definitely be a game worth checking out.
You can learn more about My Baby First Steps by visiting the Official Website.
Your Daily Blend of Entertainment News
Staff Writer at CinemaBlend.