NBA Jam On Fire Edition Turns Up The Heat On Xbox 360, PS3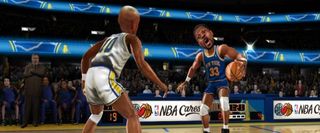 EA has recently unleashed the highly anticipated NBA Jam: On Fire Edition for the Xbox 360's Live Arcade and PS3's PlayStation Network. The new game sports revamped features, more over-the-top dunks, new hidden characters and tons more.
The game is currently available for download and has been since October 5th. New to the series is the tag team mode that allows players to swap in and swap out benched teammates, as well as performing more tag-team dunks and alley-oops like never before. NBA Jam will also sport the legendary announcing from Tim Kitzrow, helping put gamers even more in the game than ever before.
If that's not enough, there are mascots, secret teams, unlockable characters and legendary and international players all up for the taking in the new On Fire Edition of NBA Jam.
You can grab a copy of the game off the PlayStation Store for the PS3 for $14.99 or you can pick up a digital copy off the Xbox Live Marketplace for only 1200 MS Points. For more information on the game feel free to dribble on by to the Official Website.
Staff Writer at CinemaBlend.