NBA Jam's Secret Mortal Kombat Court Revealed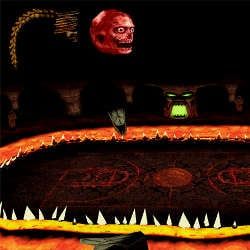 These days it's not often that we get to report news about the 1993 arcade basketball game NBA Jam so this seemed worth noting. Mortal Kombat creator Ed Boon revealed today that a MK basketball court was almost featured in Jam.
"These images were going to be used in a 'hidden MK court' for one of Midway's NBA Jam/Hangtime home ports. But the NBA said no," wrote Boon on his Twitter. The image provided is concept art of a b-ball court etched in stone and surrounded by lava and tall spikes.
Mortal Kombat, though pretty tame compared to some other games these days, was a lightning rod for controversy back in the day so no doubt that's why NBA put the kibosh on this hidden court. As a Knicks fan, though, I would've appreciated the opportunity to impale Michael Jordan, Hakeem Olajuwon or Reggie Miller.
Image 1 of 1
Staff Writer at CinemaBlend.
Your Daily Blend of Entertainment News
Thank you for signing up to CinemaBlend. You will receive a verification email shortly.
There was a problem. Please refresh the page and try again.