Naruto Shippuden: Ultimate Ninja Storm 2 Game Details Revealed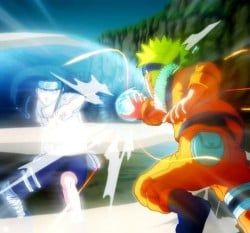 Namco Bandai released some new information on the upcoming Xbox 360 and PS3 rendition of Naruto's Ultimate Ninja Storm 2 and the highlight of the game comes in the form of its online features.
According to the press release…
The online modes include playing in matches against opponents in quick matches or custom matches or getting serious with a ranked match. Let's just hope the lag is handled better in this game than some other fighting games *cough*Tekken 6*cough*. Naruto Shippuden: Ultimate Ninja Storm 2 for the Xbox 360 and PS3 – making it the 11,275th game in the series – will be available this fall.
You can check out the specific online details below or to learn more, be sure to visit the Official Namco Bandai Website.
Naruto Online Modes:
• Player Match – Take on rival ninja to sharpen playing skills or just for kicks with the following match types:
o Quick Match: Play deadly ninja roulette with random opponent selection
o Custom Match: Define match settings and pick your battles
o Create Match: Host a match and have challengers come to you
• Ranked Match - Challenge and defeat players around the world to improve your global ranking and become the true ultimate ninja
• Ranking System - Compare your skills and strengths with players the world over and climb your way up the global rankings
Your Daily Blend of Entertainment News
Staff Writer at CinemaBlend.