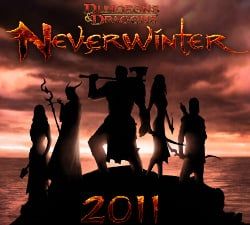 Today Atari and Cryptic Studios announced Neverwinter for the PC. Neverwinter is an online RPG set in the Dungeons and Dungeons universe.
In Neverwinter, players choose from five "classic" D&D classes. Based on the website, it looks like the classes are Warrior, Thief, Cleric, Wizard, and Ranger. That's the general niche each will fulfill, anyway. Who knows what they'll actually be called, though.
Anyway, once you've created your own character, you'll go off on a quest to save the city of Neverwinter. You can form a party with up to four other players. The game will also come with a toolset (codename "Forge") to allow you to create their own quests. These creations can then be traded online.
Neverwinter is due in the fourth quarter of 2011. It will hit stores around the same time as the novel Gauntlygrym from R.A. Salvatore. Gauntlgrym is the first installment of a "Neverwinter Trilogy." It introduces the storyline and characters encountered in the game.
Neverwinter also ties in with the 4th Edition of the pen-and-paper D&D game. It's the first game to utilize that particular ruleset.
Your Daily Blend of Entertainment News
Staff Writer at CinemaBlend.