Next Battlefield Is In Development, DICE Confirms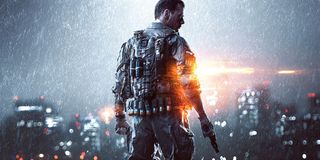 DICE has started work on the next Battlefield game, according to development director Dan Vanderlind.
Vanderlind confirmed on a href=https://twitter.com/mrVaderdan/status/675317213302247426?ref_src=twsrc%5Etfw>Twitter that he and other DICE employees have transitioned to developing this new Battlefield now that Star Wars: Battlefront is complete:
EA has dropped some hints on what to expect from the next Battlefield. In late 2014, chief financial officer Blake Jorgensen said that the new BF was going to be a "return to the Battlefield military-style game," as opposed to another cops-and-robbers game like Battlefield Hardline. A few weeks before that, CEO Andrew Wilson said that the new Battlefield would be out between October and December 2016. He explained that they're waiting until 2016 to release the game because they want to give fans time to enjoy Hardline and BF4. They presumably don't want to hurt Battlefront's sales by releasing a new Battlefield in the same year, either.
While we know the new Battlefield is a military game, we don't know what era it's going to depict. Will it be Battlefield 5 and take place a few years after the modern game BF4? Will it revisit the futuristic setting of Battlefield 2142? Or is DICE finally going to return to the series' World War II roots? There's also a chance that the sub-series Bad Company could get its long-awaited third game.
Although this new Battlefield won't be out until late 2016, DICE plans to occupy their fans in other ways. As Vanderlind noted, some of the developers are still working on Battlefront. They have four expansion packs planned that will bring new planets, characters and game modes. DICE with supplement those expansions with other free DLC.
DICE isn't done with Battlefield Hardline just yet, either. They still have the "Getaway" and "Betrayal" expansions in the pipe and plan to release them early next year.
This poll is no longer available.
Staff Writer at CinemaBlend.
Your Daily Blend of Entertainment News
Thank you for signing up to CinemaBlend. You will receive a verification email shortly.
There was a problem. Please refresh the page and try again.