Nintendo's New Roadmap Is Full Of Nostalgic Goodness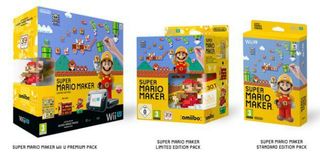 Nintendo's latest announcement came in the form of a press release today packing plenty of game news that'll get you nostalgic for the classics.
If new releases that inspire nostalgic reflexes aren't enough, there are also plenty of amiibo figures to go around as well!
The Nintendo roadmap for the rest of 2015 is very robust, including release dates for fan-favorite titles and other offerings that we've been clamoring for since the announcements at E3 2015.
First on the list is a special Super Mario Maker Wii U bundle that will come with a special Idea Book, the game, the 30th Anniversary Mario Modern Color amiibo figure, and a Wii U system. It'll be avaialble the same day as the game itself, September 11, for $299.96. You can buy the game on its own of course or with the amiibo as well.
The Wii U has an impressive smorgasbord of releases on tap as well, including the long-awaited Yoshi's Woolly World, which is coming out October 16. You get the adorable little Yarn Yoshi amiibo as well if you pick up the bundle, but you can get the amiibo figures themselves as well, including a special Mega Yarn Yoshi that'll grant special powers in Yoshi's Woolly World.
Fatal Frame: Maiden of Black Water will be launching on October 22 as well, so there'll be a horror game in the cards for Halloween. It's free to download and begin, and players will be able to get through most of chapter 2 without having to pay anything. This is an interesting alternative release option, especially since it's going to allow a considerable amount of time to check it out before committing to a purchase.
Star Fox Zero, the long-awaited current-gen follow-up to the venerable series, finally has a release date as well, of November 20. Xenoblade Chronicles X follows up on December 4 along with Devil's Third, the game previously thought not to be published by Nintendo. The rumors were long since proven false, so you'll be able to purchase it on December 11.
Lastly, Animal Crossing: amiibo Festival and special amiibo figures that go along with it will be coming out this Holiday 2015 as well as Mario Tennis: Ultra Smash. It's as if there was a parade of nostalgic releases and new installments of familiar games through Nintendo's offices with this rolling out of releases and memorable franchises. Personally, I'm looking forward to Fatal Frame: Maiden of Black Water quite a lot, especially since it certainly didn't seem like a game we'd ever see Nintendo bring Westward.
What do you think of all the release announcements and what we can expect from Nintendo throughout the rest of the year?
Your Daily Blend of Entertainment News
Your Daily Blend of Entertainment News
Thank you for signing up to CinemaBlend. You will receive a verification email shortly.
There was a problem. Please refresh the page and try again.