Now You Can Experience Fallout 4 Through The Eyes Of Dogmeat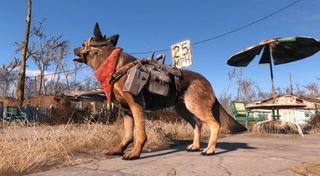 Have you ever wondered what it would be like to play as Dogmeat? I'm sure someone, somewhere thought it was cool. Well, one modder has made it possible for you to play as Dogmeat in Fallout 4. The mod is mostly fully functional and offers gamers the once-in-a-lifetime opportunity to survive in the wasteland as a canine.
PC Gamer did a write-up on the new mod that was released into the wild by Nexusmods user Abbalovesyou. The mod was posted to Nexusmods just recently and it features the ability to play as Dogmeat.
Now this isn't one of those janky mods where Dogmeat replaces the human player but retains the human's bones, this is a legitimate mod where the dog runs, behaves and moves exactly the way a dog should.
Your standard interaction methods and attack abilities are replaced with four basic dog attacks, including a basic bite, a secondary bite, a a power jumping bite, and a running jumping bite. Each of Dogmeat's attacks can be executed on other animals, robots, mutants and humans. You can see how the animal plays, reacts and runs around in the video below, demonstrating how to interact with the world in Fallout 4 as Dogmeat.
Now there's a couple of takeaways from the video that's also explained on the Nexusmods page. You can't use firearms. You can't readily equip things from your inventory. And you may have noticed that you can't access the Pipboy anymore. The only way to access the Pipboy is to turn back into a human.
Speaking of transformations, it's possible to turn into different dogs throughout the wasteland using some console commands. And even though the Pipboy is inaccessible, it is possible to equip some dog armor and clothing if you manage to encounter them throughout your journeys. It's one of the few things that doesn't glitch or cause any problems in this particular Fallout 4 mod.
Abbalovesyou didn't stop at just playing dogs, though. There are also mods that allow you to take on the persona of cats, robots, children, synths and even Deathclaws.
As noted in the PC Gamer article, this mod, as impressive as it is, is only the tip of the iceberg of what's possible once the mod tools become available in April. PC modders have been having a field day with Fallout 4 and modding the game to great extents since its release back in November of 2015, but things will get really interesting when the console compatibility for mods is made available and Bethesda's official modding tools are released to the public.
For now, if you're fine with running around as a dog and biting and scratching people in Fallout 4's wastelands, feel free to grab the mod from over on the Nexusmods page.
Your Daily Blend of Entertainment News
Staff Writer at CinemaBlend.