Now You Can Have Your Own .Game Domain, Get The Details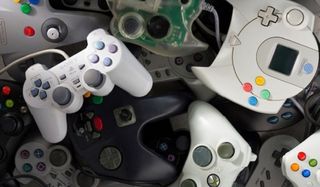 Ending web addresses for video games with ".com" is so last year. Now all of the cool kids are registering their gaming sites with the ".game" domain, making it clear to any visitor that their content is all about the video games. After a sort of early access period last week, the .game domain is finally open to all comers.
Back in 2015, Uniregistry announced that they had acquired the rights to the .game domain. Outside of last week's early phase, however, the new domain has been hands-off for folks looking to get an early jump on claiming websites. That is, of course, until now. Uniregistry has announced that .game domains are now available for anyone looking to create such a site, and you can dive into the process by visiting the appropriately addressed get.game.
At that site, you'll be able to search for claimed .game names to make sure the one you plan on using isn't taken. That's also where you can check out info on the Pioneers Program, get the latest news and more. The site claims that the .game domain is a perfect fit for companies that produce software or apps, as well as distributors and retailers, sports fans and athletes, video game creators and developers, and board/card game creators.
That's actually a good point. While .game is a solid fit for electronic entertainment, it's also an obvious choice for folks who play on the table top or, you know, in actual physical competitions.
In case you're thinking this gives you an opportunity to get rich quick, measures were taken to make sure some of gaming's heaviest hitters got first dibs on domains for their titles. Blizzard, for instance, has already laid claim to .game domains for all of their biggest titles, including Heroes of the Storm, Hearthstone, Diablo, StarCraft and, of course, World of Warcraft. Domains of the .game variety have also been pinned down for titles like the Call of Duty series, Battlefield, and pretty much any first-party title you can think of like Halo, Gears of War, Uncharted, God of War, etc.
I was surprised to find that nobody had laid claim to YouLostThe.game just yet, but then I noticed that it'll set you back $320 to make such a terrible joke. Still, it's an option and I leave it on the table for any of you to pick up and run with. You'll need to fork over the same price for ThisIsntA.game, as well as DoYouWantToPlayALittle.game, for you Saw fans in the audience…I better hurry up and finish this story because, otherwise, I've found myself a distraction that could easily keep me occupied all night.
If you're an indie developer, you probably didn't have the opportunity the bigger companies had to claim your domain so early, so you might want to do yourself a favor and act quickly on this one. It appears $320 is the standard going rate, so hopefully you can find that in the ole' budget.
Staff Writer for CinemaBlend.
Your Daily Blend of Entertainment News
Thank you for signing up to CinemaBlend. You will receive a verification email shortly.
There was a problem. Please refresh the page and try again.