Nyko Xbox 360 Multi-Reader Review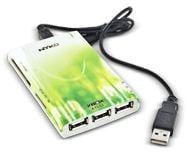 Say you're one of those gamers who has the latest of everything: ipods, multiple flash cards, various USB storage devices, or even a PSP. So wouldn't it be cool to use all those devices at once and integrate all of them into one convenient hub? What's more, wouldn't it be cool to do so while playing your Xbox 360? If you answered 'yes', then you need Nyko's Multi-Reader.
However, if you answered 'no', you might want to go out and buy a lot of stuff and then come back and read this. Otherwise, if you're a poor, poor gamer who has to choose between a bologna sandwich for dinner or a new pair of underwear that don't have any holes in them, then you might skip this review as well.
The Multi-Reader, I'll admit, is for the got-to-have-it-all gamer who has too much stuff and doesn't know what to do with it all. However, the Multi-Reader is also good if you're simply into multiplayer gaming with your Xbox 360, but want to do so with a couple of friends over. With three USB slots designed to allow up to four-players to compete on the 360 simultaneously, the Multi-Reader is actually a multi-functional device that works as a multi-tap along with its other various uses. Now that's getting more for your money.
Speaking of the three USB slots...you don't have to be a gamer to find a good use for them. With the USB 2.0 and the three standard USB [female] ports, anyone can conveniently attach an ipod, a digital camera or even a USB storage device. Heck, you could use it as a USB hub for all your cool little gadgets, and completely bypass its use as a controller multi-tap. So you can keep your memory sticks on hand to instantly view stored media, pictures or movies across multiple memory formats.
But that's not all, this sleek little device comes complete with compatibility for up to 5 different types of memory or flash cards. So gamers who are always changing up data devices won't have to worry about accidently storing them in their gym socks. Whether it's CF, SD/MMC, MS/MS-PRO or SM, your memory cards can be stored or used in the HUB while it stays connected to your 360. Now that's smart gaming.
Overall, if you want some multiplayer, multi-USB device compatibility options, and you don't mind parting ways with $29.99, then the Multi-Format Card Reader for the Xbox 360 is definitely a device worth checking out. And just think, we used to pay that much for the original multi-tap for the PSOne and PS2? What a fluke that used to be. But for further information regarding Nyko's Xbox 360 Multi-Reader, you can view or purchase it through Nyko's Official Website.
Staff Writer at CinemaBlend.
Your Daily Blend of Entertainment News
Thank you for signing up to CinemaBlend. You will receive a verification email shortly.
There was a problem. Please refresh the page and try again.