PS2 Is Kicking Xbox 360's Butt, While PS3 Dies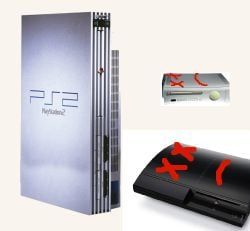 It's no surprise that the PlayStation 3 hasn't been a big hit. And obviously the huge price tag and lacking software lineup has been the prime cause of what looks like an early demise of Sony's next-gen console. Surprisingly, though, the PS2 has managed to sell more units month-on-end than the Xbox 360.
Now common-sense might say that the PS2's cheaper price should enable it to shift more units than the bigger, flashier and more expensive Microsoft next-gen console. However, time and time again – even during the holiday season, which is the highest selling point of video game sales – the PS2 was the major console to come out on top.
Even during February, according to NPD analysts, the PS2 out-sold the Xbox 360's 228,000 units, with an impressive 295,000 units. The results were the same for all of 2006 and up through January, when the PS2 and Xbox 360 went head-to-head in stats. What's funny, though, is that the PS2's decline in software sales has seen an annual drop of about 15%. And while that is drastic, it's fairly expected. According to Next-gen Biz, Michael Patcher commented that "…The precipitous decline in PS2 software sales concerns us,"
Michael needs to be slapped. There's no reason to be concerned because there weren't a whole lot of hard hitting games gracing the PS2 during the period in which the 'concerning declines' take place. Also note, the prices on PS2 titles drop a lot faster now that the newer systems are out. But when the NPD surveys the sales from retailers for March and April, the PS2's sales should look pretty darn good with just a few games like God of War II and MLB The Show. That's not including third-party support, which seems like it's as stable as ever. Especially given that Liquid Games has now joined on as a budget-priced supporter of PC and PS2 gaming. In a recent press announcement, Oxygen's CEO Jim Scott commented that... "Recent research indicates that $9.99 is only perceived as a "good" price point by consumers. We've always aimed to offer family gamers "great value" so we're adapting our Liquid Games pricing accordingly",
So while PS2 games get cheaper, and strangely sell more, PS3 just seems to be dying. While yes, Sony is doing a lot of good things with the PlayStation (2) brand, they don't seem to have enough momentum – or any momentum for that matter – heading up the PlayStation 3. Instead, the PS3 is sitting on retailer shelves, collecting dust and telling tales of its manufacturing days to accompanying PSP units.
In fact, the PS3 has only moved 123,000 units in February. And that's not just disappointing, that's embarrassing for a brand spanking new, next-generation video game console. But there's no reason to beat around any invisible bush – we all know that the PS3's price point and lacking software lineup is the reason it's dying. Heck, I'd tell all my friends to purchase a PS3 simply for the PlayStation Home...if I knew they wouldn't have to forfeit a car note, a mortgage, rent or food just to buy one. Conveniently, the PS3 is priced perfectly to interfere with things in life that are actually important...like bills or a college text book.
Eventually, though, the PS2's library of new games will dwindle in importance as 2008 nears, and Sony will actually have a problem on their hand. When the Xbox 360 and Wii are carrying heavy third-party exclusives for 2008, Sony is either going to have to have the PS3's software support shaped up, or they'll have to be ready to slip out of the race altogether. Next year at this time, the PS2 will definitely not have the staying power it has right now. So it'll be crucial for the PS3 to have games that at least justify its pricing. Otherwise, gamers will flock to either the Xbox 360 or Wii, which will surely drop in price come 2008.
Staff Writer at CinemaBlend.
Your Daily Blend of Entertainment News
Thank you for signing up to CinemaBlend. You will receive a verification email shortly.
There was a problem. Please refresh the page and try again.