New PS3 Terminator-Bundle Set To Replace Price-Cut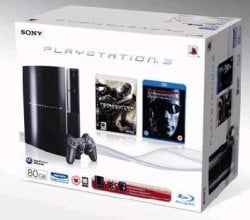 Sony refuses to drop the price on the PlayStation 3. All the rumors, haggle-nag and hoopla-la over a March price-cut for the PlayStation 3 turned out to be nothing more than the fore-mentioned. Well, in place of the price-cut Sony Computer Entertainment announced that gamers would get a good deal on a new bundle pack.
Electronic Theatre is reporting that the PlayStation 3 bundle will come jam-packed with a game and a movie, as well as a 80GB PS3. The movie happens to be the worst of the Terminator series and the game happens to be Terminator Salvation, one of the worst movie-based games to date. So, I guess it's not bad if you don't have to pay anymore than you would if you were just buying the PS3 by itself.
The new bundle is due out this month. You can learn more about it and grab up some details by visiting the Official PlayStation Website. For more gaming news, info, insight and updates, be sure to stay tuned in with Blend Games.
Your Daily Blend of Entertainment News
Staff Writer at CinemaBlend.