This PS4 Bundle Comes With $100 Of Credit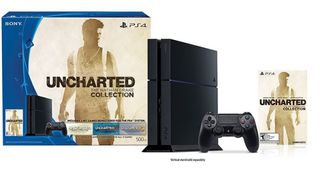 With the holiday season shopping spree nearly in full swing, all the major electronics gaming companies will be looking to get gamers and casual shoppers alike to spend big bucks this fall on all the latest gadgets, gizmos and games. In Sony's case, they recently dropped the price of the PS4 and now they have a special offer with select bundles for $100 worth of Sony Rewards credit.
Games Radar is reporting that Sony has a series of PlayStation 4 bundles available, starting at $349.99 that come with a $100 Sony Rewards bonus. The Uncharted: The Nathan Drake Collection and The Last of Us: Remastered bundles are both available for $349.99 with the $100 Rewards bonus. The bonus can be exchanged for other Sony-specific content, including PlayStation Network gift cards. If you don't mind spending a little bit more for a specialty item, the bonus rewards are also available in the limited edition Destiny bundle that comes with a PS4, but you'll need to spend $399.99 on that one.
If you exchanged the $100 reward in for PlayStation Network points you could buy a full new game for $60 and another game for a little under $40. If you were going for a new game, the most obvious choice is Fallout 4. If you're not concerned about getting the latest and newest titles that come out, you can also settle for something a little older... maybe getting two $50 games or three $30 titles. The most cost effective option would obviously be to get Uncharted bundle since you get three full games in that pack, with a game console, and with the $100 Sony Rewards card you can pick up a ton of smaller, cheaper games to flesh out your PS4 library on the fly.
Right now Sony and Microsoft appear to have the best deals available for bundle packs. Microsoft even has a bundle where you can save up to $100 getting the system along with a few games, all for $349.99. It's about equivalent to Sony dropping the price of the PS4 to $349.99 and then throwing in a free $100 rewards card to further sweeten the deal.
This is probably one of the best times to get in on the home consoles while they're cheap and relevant. They're now going to be competing head-to-head against Valve's Steam Machines, which are available at prices as low as $449 and offer gamers more than 1,500 games being compatible on the service right out of the gate.
It would be hard to deny that for between $450 and $500 you could get a Steam Machine that plays games right off the bat at 1080p and 60fps. Sony and Microsoft choosing to drop down to the $349.99 mark puts a clear $100 competitive pricing difference between the home consoles and the new high-powered Steam Machines. Now gamers really will have to choose between power and pricing convenience.
Sadly, Nintendo didn't seem to get the memo like the other two and many of their bundles are still $299.99, with a few being $329.99, which is just a few bucks cheaper than the PlayStation 4 bundles. But throwing in the Sony Rewards $100 bonus actually sees the PS4 blasting past the Wii U in terms of value for your dollar.
The bundles are available right now with the Sony Rewards card bundled in. You can learn more about the rewards program by visiting the official website.
Staff Writer at CinemaBlend.