PS4 Gamers Watch More Porn Than Xbox One Gamers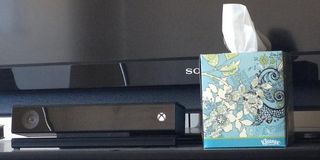 PS4 owners are consuming more porn than gamers on Xbox One, SugarDVD announced. The company, who released a streaming porn app for both next-gen consoles, says that PS4 sign-ups in December were triple the amount of Xbox One sign-ups.
BuzzFeed notes that some of the discrepancy might be due to the PS4's greater sales. Still, the gap between the two consoles' sales isn't large enough to account for the difference in porn viewing. Maybe Xbox One owners are insecure about watching porn with a camera pointed at them. Or they just feel uncomfortable using voice commands like, "Xbox One, Play Creampie Hunnies from Russia."
Yes, Creampie Hunnies from Russia is a real movie. It's one of the most-viewed films on both PS4 and Xbox One in December:
Top 10 Playstation 4 movies viewed this month
Cream Plosions #2
Top Heavy Tarts #6
Creampie Hunnies From Russia
Big Ass Movie, The #2
Monsters Of Jizz #14: Older Men Younger Women
Desires #12
Wreck My Virgin Russian Ass
Big Titty MILFs #9
Top Heavy Tarts #11
It's Okay! She's My Step Daughter! #13
Top 10 Xbox One movies viewed this month
Cream Plosions #2
Wreck My Virgin Russian Ass
Creampie Hunnies From Russia
Top Heavy Tarts #24
Big Ass Movie, The #2
Monsters Of Jizz #14: Older Men Younger Women
School Bus Girls #2
Dirty Little School Girl Stories #3
Big Tits Curvy Asses #2
Top Heavy Tarts #25
"These statistics haven't creeped me out enough," you might be saying. Well, fortunately, SugarDVD also provided information on the most common categories viewed by each console's players. Though PS4 and Xbox One owners will debate for years over which console is superior, the two can agree on the merits of MILF porn:
Top 10 Playstation 4 categories this month
All Girl
Black
Amateur
Milf
Anal
Big Boobs
Chubby
Handjobs
Creampies
Latin
Top 10 Xbox One categories this month
Anal
College
Milf
Big Boobs
Black
Groups
Big Butts
All Girl
Amateur
Classic
Though PS4 gamers are currently outpacing their Xbox One counterparts in porn use, SugarDVD thinks that XB1 is the more forward-thinking porn device thanks to its "Snap" feature, which allows users to multi-task while watching an adult film. Kinect's voice and gesture commands were also singled out for praise.
"Simply put, the Xbox One is a gateway for porn of the future," SugarDVD CEO Jax Smith told DigitalTrends in November."The PS4 is pretty, but Xbox One allows for more seamless integration and a more interactive experience."
Fun fact: This article will probably be the first and last time we use the phrase Cream Plosions on the site. If you're looking for more plosions, you might want to look elsewhere.
Staff Writer at CinemaBlend.
Your Daily Blend of Entertainment News
Thank you for signing up to CinemaBlend. You will receive a verification email shortly.
There was a problem. Please refresh the page and try again.