PX5 And P11 Wireless Headsets Pre-Orders Available; Release Date Revealed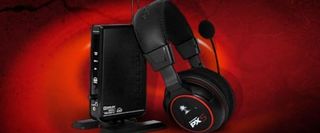 Turtle Beach's highly anticipated programmable, wireless, Dolby Digital surround sound headsets, the PX5 and P11, will be available for retail purchase beginning April 3rd. Hardcore gamers who attend the PAX East in Boston between March 11th and March 13th will be able to pick up a pair of the headsets at Turtle Beach's shop at booth # 730, for only $249.99. If the price seems a little steep, a complimentary I-can't-believe-you-just-paid-that-much-for-headset t-shirt is tossed in to make consumers feel a little less sad about how much money their wallet, credit, or checking account will be missing.
The PX5 is a little too steep for your tastes, there's the P11 for the PS3 as well. As stated in the press release…
In addition to this, the PX5 web portal is now open, allowing gamers who get their hands on the PX5 to download presets for some of their favorite games, including special presets for games like Dead Space 2 to help increase the intensity and amp up the audio immersion.
You can learn more about the P11 Headset and the PX5 Headset over that the Official Turtle Beach Website.
Your Daily Blend of Entertainment News
Staff Writer at CinemaBlend.