Pinball Arcade Rolls Onto PS4 Tomorrow, Discounted For Loyal Fans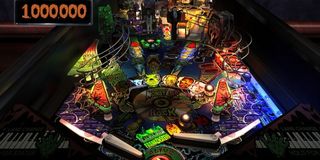 The Pinball Arcade is ready to roll on the PlayStation 4, bringing its collection of real-world tables to Sony's latest games console starting tomorrow, Dec. 17. That's the good news. The bad news? It won't exactly be a cross-buy game with the PS3 and Vita versions.
To be fair, a lot of extra work has apparently gone into this PS4 version of The Pinball Arcade in order to make all of those tables next-gen-ready and, really, we're not exactly entitled to cross-buy benefits. It's nice when they can be provided but it shouldn't just be expected as a given.
Don't worry, though, as it's not exactly like the folks at Farsight are leaving their loyal fans high and dry, either.
As explained in a recent PS Blog post, The Pinball Arcade will launch on the PlayStation 4 with all of the season one tables. That includes 10 table packs including original IPs like Cirqus Voltaire and Medieval Madness (my personal favorite), as well as the uuber tables like The Twilight Zone and Star Trek: The Next Generation.
All of these tables have been recreated for the digital space, including all of their original rules, play fields, interactive components, etc. Each table also offers a bit of history and artwork concerning the game, as well as multiple view angles for those who like to play way up high, up close and personal and anywhere in between.
In order to give players a chance to try before they buy, Pinball Arcade will be available as a gaming platform of sorts with the Tales of the Arabian Nights table (another absolute classic) available free of charge. In other words, you can download and enjoy that table as much as you want, or you can fork over some cash in order to download the rest of the season one tables. Season two tables will be available sometime in the future with season three expected to kick off sometime early next year.
According to the launch announcement, this newest version of The Pinball arcade sports some spiffy new lighting tech, new mechanics, graphical upgrades, bug fixes and tweaks. The fixes and tweaks will be available on the Vita and PS3 versions of the game at a later date, but they'll come standard with the PS4 version once the game goes live tomorrow afternoon.
And, finally, while the price hasn't been announced yet, FarSight has made it known that those who own season one tables on the Vita or PS3 version of the game will be able to get said tables for 50 percent off on the PlayStation 4. And, in case you're completely new to the game, PlayStation Plus subscribers can save 10 percent on all table packs for the first two weeks.
Staff Writer for CinemaBlend.
Your Daily Blend of Entertainment News
Thank you for signing up to CinemaBlend. You will receive a verification email shortly.
There was a problem. Please refresh the page and try again.