Plants Vs. Zombies Arrives On PS Vita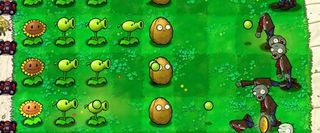 The PlayStation Vita is now home to the endless battle between the undead and plant life. PopCap Games announced today that the Vita port of Plants Vs. Zombies is now available through PSN.
In PvZ, players must fend off hordes of zombies with strategically placed plants. Each plant has a different unique ability that allows them to slow or kill the advancing undead. Players must find the right mix of plants for their defenses while also managing their sunlight supply.
The Vita PvZ features five original game modes such as Adventure and Zen Garden. There are 50 Adventure levels in total. You can also create your own custom zombie, or "Zombatar." Standard features like leaderboards and Trophies are included as well.
"All for a paltry $14.99! That's less than you'd pay at the movie theater for the latest rom-com movie and a bag of popcorn, and you'll feel less bad afterward!" said PopCap's Jeff Green on the PlayStation.Blog. "Or, heck, if you must see the new rom-com movie, you can bring the PS Vita with you and then boot up Plants Vs Zombies once you realize the mistake you made! Either way, it seems like you should get the game, if you ask me."
The Vita will be released at midnight tonight in North America and Europe. Select gamers who pre-ordered the First Edition bundle already have it, though.
Staff Writer at CinemaBlend.