PlayStation Network Play Promotion Coming To A Close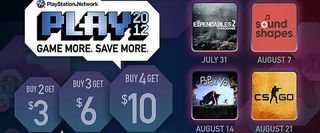 The PlayStation Network Play 2012 summer sale promotion is coming to a close this Monday, Aug. 27, meaning you only have a couple more days to earn yourself some extra digital cash by purchasing any combination of games including The Expendables 2, Sound Shapes, Papo & Yo and Counter-Strike: Global Offensive.
The Play promotion has been going on for the past month, offering free wallpapers for each game with a pre-order. The promotion also offers money back for buying more than one game included in the lineup. Buy any two games and you'll get a voucher back for $3. Buy any three games and you'll get a voucher for $6. Buy all four games and you'll get $10 back.
Being the last week of the promotion, PlayStation Plus subscribers can still take advantage of the additional 10 percent savings on the final game in the Play calendar, Counter-Strike: Global Offensive. All games are regularly priced $14.99 each.
For those unfamiliar with the games, Expendables 2 is a four-player twin-stick shooter that has players taking control of their favorite action stars in order to pump bullets into lots and lots of bad guys. Sound Shapes is a musical platformer in which doing well in the game helps build each level's soundtrack. Papo & Yo is a 3D platforming/puzzler with Counter-Strike: Global Offensive pitting teams of terrorist and counter-terrorists against one another in a battle of tactics and lots of firearms.
A recent post on the PlayStation Blog serves as a reminder that the promotion, and thus all money-back offers, wraps up on Monday. There's no time listed for when the promotion will actually end, but we're thinking you might want to make any buying decisions by midnight, just to be on the safe side.
Staff Writer for CinemaBlend.